Av Mike Sanchez
Hello and welcome to my first official newsletter. It seems that every time I've come home from touring, there's been a mountain of things to catch up with, what with time flying by faster than ever before. There have been many projects and people keeping me busy since my departure from full-time band commitments 3 years ago, and many promoters and fans have sometimes had to wait months before they've received a reply from me regarding their enquiries.. Please keep trying!
I would like to thank all of you who have enjoyed my previous album 'Blue Boy' and my debut video 'Red Hot ..Live!'. Both products continue to receive fabulous reviews on the blues and rockin' scenes. The biggest thank you goes to all the fans who attend my live shows and who spread and promote my name. May my charismatic glow and hot sweat shower you for years to come (I rarely play small restaurants these days for this very reason).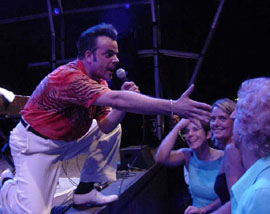 Mike Sanchez opptrer med Bill Wyman's Rhythm Kings på Henley Regatta i juli 2002.


As most of you will know, I'm currently a full time member of Bill Wyman's Rhythm Kings together with Georgie Fame, Albert Lee and Beverley Skeete. The feedback for my contribution to the Rhythm Kings has been astounding while making me feel honoured to work alongside such a line-up of legends. Now, already into my second year with the band, plenty of new ideas have been added to the set to ensure that ol' red pants gets a good soaking! Bill has also released a new 'Bootleg Kings' album, 'Travlin' Band', with a collection of some of the highlights from last year's tour, available from Bill's site; billwyman.com
Apart from the Rhythm Kings' summer touring, I remain busy most of the year round with my own band featuring close friends and great musicians Andy Silvester, Mark Morgan, Al Gare and the Harlem Horns (Al Nicholls, Dave Priseman, Pete Cook). This 7 piece line-up has performed some fantastic shows in the last couple of years including one-offs with the newly formed Rhythm & Blues Revue, an 11 piece extravaganza starring The Extraordinaires from London and the beautiful Imelda from Dublin. You simply have to see this show!!!
Earlier this year I began work on a new album of vintage Rhythm & Blues titled 'Women and Cadillacs' with Stockholm based Knock Out Greg and Blue Weather. The album is to be released early next year. I have the pleasure of touring Scandinavia with Greg and the guys every few months so it seemed inevitable that we would record a great album together. I recently brought the band over to the Burnley Blues Festival where they went down a storm. Evidence that they'll be back soon in their own right. Check out their site at; knockoutgreg.com
Plans are also going ahead for the debut release of the 'Red Hot ..Live!' video on DVD.
Other good news from last June was that a Hollywood movie titled 'The Family Business' involved me in the production of the soundtrack which includes some classic Rock 'n' Roll recordings as well as a re-working of the Meude Lux Lewis Boogie Woogie piano hit 'Honky Tonk Train Blues'. 'The Family Business' is to be released world wide early in 2003.
So, the new album 'Women and Cadillacs', a debut DVD 'Red Hot ..Live!', a big movie soundtrack, touring with Bill Wyman's Rhythm Kings, shows with my 4 piece, 7 piece and my 11 piece Rhythm & Blues Revue as well as my solo appearances plus the occasional trip to Scandinavia with Knock Out Greg and Blue Weather. and I just can't seem to get enough!! Please check my website for what's up and coming this winter.
Lots of love and see you all soon.
Merry Christmas and a Happy New Year.
Mike Sanchez
epost: mikesanchez@blueyonder.co.uk
webside: www.mikesanchez.co.uk
Nyhetsbrev fra Mike Sanchez. September 2003.
Mike Sanchez w/ Knock Out Greg & Blue Weather - Women & Cadillacs'