Av Widmarc Clark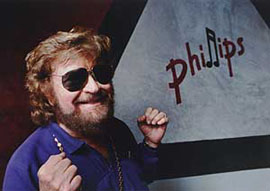 It's quiet at the little studio on Union Ave in Memphis, Sam's gone home only memories hang form the walls where rock-a-billy music was born. Memphis has lost The Father of Rock-n-Roll.

I was there this past year and made my way around the studio. I looked over the modest console that Sam had recorded "That"s All Right" on. No 32 track Hi-Tech catch-every-sound deal, just a 1 track get it down-right-the-first-time or lose-it-forever.

Looking through the large glass window from inside the console you see the area that Scotty Moore, Bill Black and Elvis stood when when Sam recorded them playing the sounds that later would become history.

Born in Florence, Ala, Sam made his way to Memphis working in radio stations as a Dis-Jockey till he had enough money saved to buy the equipment he needed to build a recording studio. A building was available on Union Ave. at a monthly price that Sam could afford. Sam moved in and begin to build his dream. He called his new business The Memphis Recording Service. Now he had a building and a studio but no business and a family to feed.

This is not a story that has rich beginnings such as Henry Ford or Howard Hughs, Sam Phillips was a long way from making money or being Famous. Sam met Dewey Phillips a local DJ and they decieded to form "The Phillips" record Co. Howlin Wolf came by, Ike Turner and Rufus Thomas and slowly the company begin to do a little business. Nothing was easy, all the Big Name record companies were in New York, Chicago or Los Angles. Nashville had Country Music under control leaving no reason for Sam Phillips to survive with his recording studio near the muddy Mississippi in the Western sticks of Tenn, in Memphis.

But survive he did aganist all odds, keeping his dream alive with one set back after another. Sam disolved his partnership with Dewey Phillips, as the company was going no where. Sam begin to record blues artist and sell the masters to Duke, Modern/RPM, Chess/Checker, Flair, Trumpet and Bullet records in Nashville. He even sent some demos to Mitch Miller at Columbia.

Sam had recorded B.B. King, Little Milton, Roscoe Gordon, Sleepy John Estes, and Joe Hill lewis and was still just making enough to pay the rent and buy a few groceries, he was getting no where selling his masters to other record companies, His Dream to do something no one else was doing was gathering dust. If he could only find something or someone who was different?? However Sam needed to do something quick or his Dream would go broke.

In Feb of 1952 Sam decieded to form his own record company and become an independent label. A move he was never to regret. In 1952 Sams brother Judd became a partner and Sun Records was off and running. Judd was everything Sam needed. Judd had worked for Roy Acuff and then moved on to Hollywood to work for Jimmy Durante in the Publicity Dept. Judd knew how to sell records through radio and was an ace at peddling records all over the south out of the trunk of his car. Judd set up record distrubition in New York Los Angeles and New Orleans.

Now Sun had National record Distribution. Junior Parker gave Sun it's first "hit" with (Feeling Good) then another with (Mystery Train). Most people have only heard Elvis sing the song however the orginial by Parker really Rocks. Next Sam begin to record country artists, he had Malcom Yelvington, Maggie Sue Whimberly who became Sue Richards and had a "hit" with (Norman) after she left Sun. Doug Poindexter, Clye Leoppard, Slim Rhodes, Hard Rock Gunter, Bill Taylor and Brad Suggs all recorded country music on the Sun Label.

All these artist passed in and out of Sun before Elvis came along. It's true Elvis got Sun Records known world wide. Then came Johnny Cash, Carl Perkins and Jerry Lee Lewis to help make Sam Phillips even more famous. However we must give credit where it is due. Sam didn't have to let Elvis go when he did. He could have held on to Elvis, he didn't, in a smart move he sold him for the amount he asked for. He then used some the money to buy into the newly formed Holiday Hotel which later became Holiday Inn.

Sam also kept Jerry Lee Lewis stable after his marrage to Myra Brown when the whole world was down on Lewis. He encouraged him and told him to wait things out that he would once again be rich and famous. With Sam's blessing Jerry Lee moved on to Country Music and did become again rich and famous.

Another artist from Sun that stayed in the shadows but has a world of talent is "the one and only" Billy Lee Riley. Billy Lee Riley has become an Icon of Rock-a-billy music. Billy Lee has kept going and and going and going and it's paid off for him as he's known around the world for his dynamic shows. You can't put on a Genuine Rock-a-billy show without Billy Lee Riley and without Sam realizing Billy Lee's talent we'd have missed a great entertainer.

Sam, thanks for those famous Sun 45's with the name Red Hot - Billy Lee Riley And The Little Green Men stamped on the beautiful Sun label. Sam ole boy, you gave us many memories that will last forever. Also, thanks for dropping by Memphis and setting up shop and filling our Hearts with the best Rock-a-billy music ever recorded. My friend, you stand tall in my Rock-a-billy book. Rest in Peace, I'll always remember you.