Loretta Lynn sings from her heart with a new album - and spreads her wings with a rockin' new producer. Who'd have thought a rock 'n' roller from Detroit could produce legend Loretta Lynn's most country album ever? But that's exactly what happened when the Coal Miner's Daughter teamed up with Jack White, half of the rock duo The White Stripes.
"It's so country," exclaims Loretta. "This album is countrier than country music was when I first came to Nashville!" Loretta and Jack first met in March 2003 after she found out The White Stripes dedicated - as improbable as it sounds - their 2001 album White Blood Cells to her. She invited Jack and his partner/former wife, Meg White, to her house in Hurricane Mills, Tenn., and made the duo a home-cooked meal.
"I had chicken and dumplings, green beans and a salad, and all kinds of stuff," notes Loretta. "Jack loved my homemade bread." He also loved Loretta's plainspoken songs and honest voice. One month later she shared a stage with The White Stripes when they played New York's Hammerstein Ballroom. Jack and Loretta set the place on fire, singing her feisty solo hit "Fist City" and the jaunty Loretta/Conway Twitty duet "Louisiana Woman, Mississippi Man."
Not long after that, Jack asked Loretta if he could produce her next record, and last fall they entered a small studio in an east Nashville house to create Van Lear Rose, Loretta's just-released album. While some might think the pairing of Jack and Loretta strange, she wasn't concerned at all. "I'm game for anything," she declares, " 'cause if I don't like it, I'll just do something else."
Loretta recalls her first day in the studio. "I thought, 'Is this old house gonna fall in on us before we get out of here?' " she jokes. "We walked in, and this long, tall guy [engineer Eric McConnell] was sittin' at the control table. I noticed that he didn't have many controls - not even as many as I've got on my little [sound] board. I thought, 'Oh gee, this is gonna be good.' I started singing and you know, we just took off with 'em. From the first song, it was great."
Van Lear Rose was recorded much like albums used to be made, with a stripped-down fourpiece band and minimal studio tweaking. The studio musicians may not have been Nashville A-list session players, but Loretta was extremely pleased with the results. "This little band was really rocking," she says. "All of them were in their 20s - and real bashful. They was from up in Michigan. They were a nervous wreck, I think, from just being in Nashville. But I thought it was best not to say anything. I thought, 'Well, it might make them more nervous.' But they done good."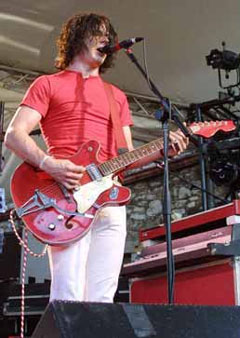 Jack White.

The album was also recorded with very few vocal takes. In fact, with the exception of one song, all of the songs are first-take vocals. However, Loretta says working with Jack was a very different experience than working with her first producer, the late Owen Bradley, who produced many of her classic hits. "Owen was really polished," explains Loretta. "With Owen, you'd have to sing a song three times before he'd even listen to it. He'd want your voice opened up, and he'd want you to remember that song exactly the way you were gonna do it. He wanted it stamped into your mind, and then we'd [record] it."
Loretta wrote all 13 songs on Van Lear Rose. The album kicks off with the title cut, a story song about Loretta's beloved mother who, according to Loretta's father, was the most beautiful and sought-after girl in the county. The next song - and the one she hopes will be the album's first single - is a rocking country rave-up called "Portland, Oregon," which Loretta wrote seven or eight years ago. "Portland, Oregon, and sloe gin fizz/if that ain't love then tell me what is, uh-huh," notes Loretta, giving an impromptu lyric recital. Jack surprised Loretta by adding his voice to the song and making it a duet. "I went back in the studio the next day after I recorded that," she remembers. "They were playing it back and I heard my voice change in the second verse. I said, 'Well who is that?' and Jack said, 'That's me.' "
Another of Loretta's favorites on the album is "Women's Prison," which finds Loretta telling the first-person story of the oftenforgotten female inmate. "I've been to a lot of men's prisons and done shows for 'em, but no one has ever asked me to go to a woman's prison," she explains. "I think it's a shame that no one even thinks about a woman's prison - don't you? Nobody cares, and that's just the way I felt. That was one reason why I wrote it. I'm trying to let 'em know I do love 'em, no matter what."
Other songs on the record include the attitude- packed "Mrs. Leroy Brown" and "Family Tree," a "wife talking to the other woman" ballad. When asked how her songwriting had changed through the years, Loretta laughs.
"It hasn't," she says. "The same old stuff goes on, don't it? And every day, something is gonna happen that you're not likin' - you might as well put it in your song and sell it. So I do that."
At the time of this interview, Loretta had yet to play the album for her family and friends. Even her band hadn't heard it yet. She's anxious for her fans to hear the new music, too - and plans a few tour dates this spring and summer with her band and Jack White, so the two can perform the new material.
But there's one person whom she knows would like the album - her beloved late husband, Doolittle Lynn, who died from diabetes complications in 1996. Loretta poured her heart out about missing Doo in the song "Miss Being Mrs."
"There's never a song I write that Doo's not a part of," she admits. " 'Family Tree' and all these fighting songs, you've gotta live 'em like you're still fightin' for 'em. I still do in my heart. I know exactly what he'd think about a song and what he'd say, to this day. When I'm writing a song, I can still see him sittin' in the back of the room, watching and listening."
While many of the songs on Van Lear Rose truly rock because of Jack's influence, they are still vintage Loretta - a country girl singing her life story, just like she always has. "You have to," she declares. "This is how I connect with other people. If you can't connect with people who are not singers, but who are living the same life that you are - you oughta get out of the business."
And Loretta doesn't plan on retiring any time soon. Along with her upcoming shows, she wants to record a religious album and a Christmas album - and she hopes Jack will once again be her producer. Even though their producing styles are different, she likens the young musician to her legendary first producer.
"You know, this kid is not very old," she notes of 28-year-old Jack, "but he's older-acting. It's like he's been here many times. I see a little bit of Owen Bradley in him. He's great at the rock 'n' roll music, but I think he will probably be even greater at producing."